About
: Pdf To Djvu Gui is a freeware win32 and linux application that converts any pdf into Djvu.
Djvu files are generally smaller than the pdf files and are good looking.
Pdf to Djvu Gui from the version 2.0 and above is portable (does not need any instalation).
1. Just run Pdf To Djvu Gui.
2. Load your pdf files
3. Press the convert button and wait :)
4. You are done
Under linux you have to install
pdf2djvu
Example under kubuntu (hardy):
Download and install these packages :
libpoppler3_0.8.7-1_i386.deb
djvulibre-bin_3.5.20-7ubuntu3_i386.deb
libdjvulibre21_3.5.20-7ubuntu3_i386.deb
pdf2djvu_0.4.12-0ubuntu1_i386.deb
Now you can use normally the Pdf To Djvu Gui.
1. The output files are in the same location where pdf files are.
Example :
c:\mydocs\1.pdf
c:\mydocs\1.djvu
2. A really nice and free djvu viewer is
WinDjView
3. If you want to uninstall Pdf To Djvu GUI just delete the PdfToDjvuGui folder and Cygwin if you used it only for just running Pdf To Djvu GUI. The Pdf To Djvu GUI installer is a simple extractor, no registry values are committed on your system, so it is safe for you to just delete the installed folder.
4. The convertion is a slow process, so give some time.
5. If the convertion fails check that :
a) The path and the file name of the pdf is simple. Like D:\mybooks\myebook.pdf
b) Use the Select pages option
6. I get font errors when i am converting a pdf [Only valid for the older versions of pdf to djvu gui] (Couldn't find a font for 'Verdana'). Cygwin does not have all the fonts installed. Run Cygwin installer again press next and on the packages panel select X11 to expand it and enable these packages : X 100 dpi fonts, X Cyrilic fonts, X font encodings, X scaleable fonts. Other packages should auto enable leave them enabled ! For a more detailed guide to do this click
here
pdf2djvu
- A pdf to djvu command line tool for linux. Version 0.5.2
I would like to thanks personally
Jakub Wilk
, the author of pdf2djvu, which responded to all of my questions. Without him this project would not be possible to make.
Whats new v.2.1 :
Updated : pdf2djvu 0.7.3 added for win32
Fixed : Pop up bug on the updater in the about box
Notice : Windows update version. The newest version for Linux remains the 2.0
Whats new v.2.0 :
New : Linux Version
New : Portable Win32 version
Updated : Cygwin is not needed anymore
Whats new v.1.1 :
Updated : pdf2djvu
Updated : Poppler
Updated : Installer
Fixed : More pdf files can be converted with this version.
(DjVuLibre v.3.5.19, Poppler v.0.8.2, pstreams v.0.5.2, pdf2djvu v.0.4.10)
Whats new v.1.0 :
First official and public release.
(DjVuLibre v.3.5.19, Poppler v.0.5.4, pstreams v.0.5.2, pdf2djvu v.0.4.6)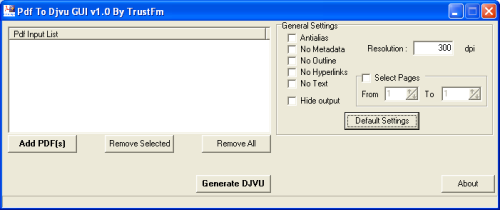 Download Pdf To Djvu GUI v. 2.1 from :